SBI RD Calculator: The State Bank of India (SBI) Recurring Deposit (RD) or SBI RD is a product to provide a person with an opportunity to build up savings through regular monthly deposits of fixed sum over a period of time. Like mutual fund SIP, it allows an investor to accumulate huge wealth through small savings. However, unlike mutual funds, SBI RD is a risk-free investment with assured return.
SBI RD interest rate
As per the SBI's official website — sbi.co.in — the SBI RD interest rate is 5.3 per cent for 3-5 year tenor while the SBI RD interest rate for above 5 year tenor is 5.4 per cent, if the SBI depositor is below 60 years of age.
SBI RD calculator for senior citizens
In case, the depositor is a senior citizen, he or she will get an additional 0.80 per cent SBI RD return (50 bps under senior citizens scheme and 30 bps additional under special senior citizen scheme). So, a senior citizen will get 6.2 per cent return on SBI RD if the investment is for more than 5 year tenor.
SBI RD penalty rules
AS per information at sbi.co.in, there is penalty levied on non payment of the monthly SBI RD. "For accounts with maturity period 5 years and less, Rs 1.50 per Rs 100 per month is charged while for accounts with maturity period above 5 years, Rs 2.00 per Rs 100 per month is charged on the depositors."
However, in case six consecutive instalments are not received, the SBI RD account shall prematurely be closed and balance paid to the account holder.
WATCH | Click on Zee Business Live TV Streaming Below:
SBI RD Service charge
"A service charge of Rs 10 will be levied on Recurring Deposit accounts paid out on or after the date of maturity, wherein there is default in payment of three or more consecutive instalments and the account has not been regularized," claims sbi.co.in.
SBI RD Calculator
Assuming an investor below 60 years of age invests Rs 1,000 per month in SBI RD for ten years, he or she will get SBI RD interest rate of 5.4 per cent. Remember, once the SBI RD account is opened, RD interest rate will remain the same even when the RD interest rate is lowered in future. So, in the wake of COVID-19 pandemic, various Indian banks including SBI are reducing deposit interest rates, it's better to open the SBI RD quickly if you are planning to start SBI Recurring Deposit.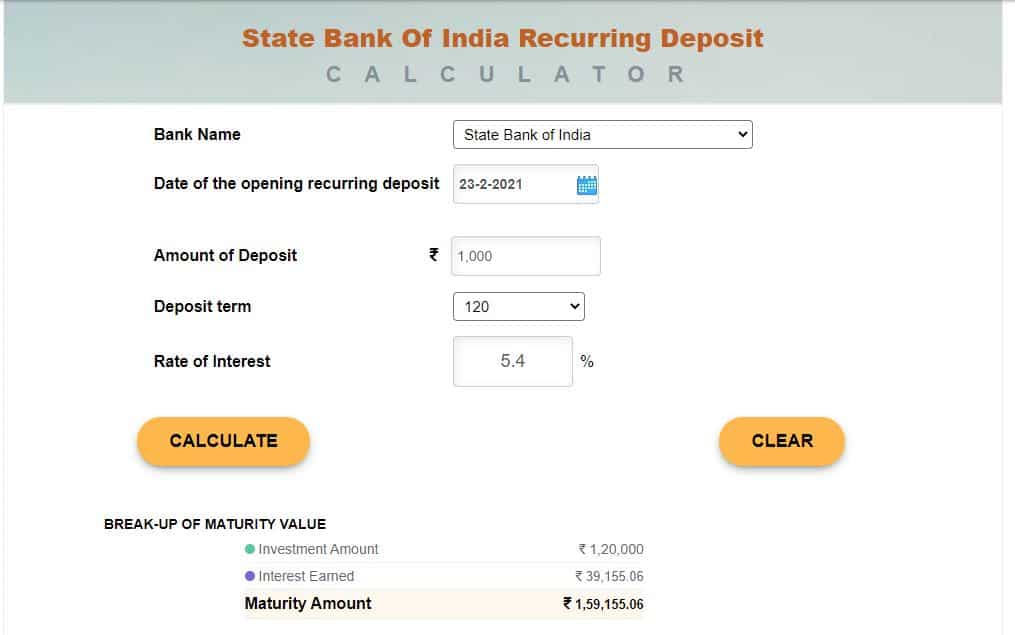 Source: SBI RD Calculator
Using SBI RD calculator, one's Rs 1000 per month for 120 months at SBI RD interest rate of 5.4 per cent, one's SBI RD maturity amount will be Rs 1,59,155 or Rs 1.59 lakh.
Source link