SBI Home Loan EMI Calculator: The State Bank of India (SBI) has slashed the home loan interest rate further. Now, the SBI home loan interest rate starts from 6.70 per cent. Apart from this, the largest commercial bank of India has offered zero processing fee and an additional 70 bps concession to those home loan applicants who have a better CIBIL score. 
So, if a SBI home loan applicant has better CIBIL rating then his or her SBI home loan interest rate can further go down up to 6.0 per cent. SBI also offers an additional 5 bps SBI home loan interest rate relaxation to women home loan applicants and same percentage point relaxation for all home loan applicants who apply for SBI home loan via Yono App.
Speaking on these limited SBI home loan interest rate offers, which are available till 31st March 2021; Saloni Narayan, DMD (Retail Business) at SBI said, "Our customers have complete trust in us because of our total transparency. The reduced SBI interest rates are one of the best ones in Home Loans anyone can wish for."
WATCH | Click on Zee Business Live TV Streaming Below:
SBI Home Loan Calculator
On the basis of above SBI home loan relaxation, if a person gets SBI Home Loan, interest rate levied on him  will be 6.70 per cent. So, if a home loan applicant is approved Rs 50 lakh SBI Home Loan for 20 years tenure, the home loan EMI calculator suggests that the monthly EMI to be paid will be Rs 37,870.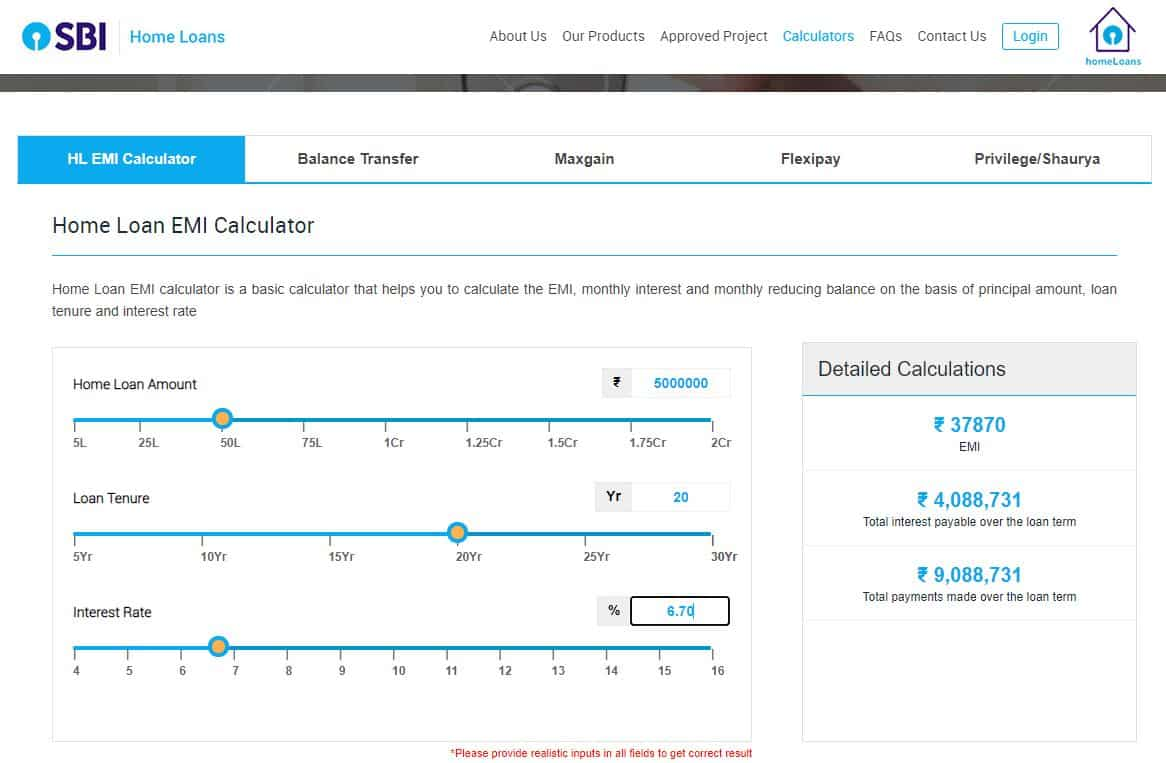 Source: SBI Home Loan Calculator
However, if the SBI Home Loan Applicant's CIBIL Score is better, then he will be given an additional 70 bps relaxation, which means SBI Home Loan Interest Rate will be 6.0 per cent instead of 6.70 per cent. In that case, the home loan EMI calculator suggests that the monthly EMI for such home loan applicants will be Rs 35,822.
Source: SBI Home Loan Calculator
So, the SBI Home Loan calculator is indicating that a SBI Home Loan applicant with a better CIBIL Score can save around Rs 2,048 per month. Hence, it's advisable to check one's CIBIL Score before applying for the SBI home loan and ask the bank to give this 70 bps relaxation provided the score is 750 or above.
SBI is the largest commercial bank in terms of assets, deposits, branches, customers, and employees. It is also the largest mortgage lender in India. The home loan portfolio of the bank has crossed the milestone of Rs 5 lakh crore. As of 31 December 2020, the bank has a deposit base of over Rs 35 lakh crore and advances of more than Rs 26 lakh crore with CASA ratio of about 45 per cent. SBI commands over 34 per cent market share in home loans and around 33 per cent in the auto loans segment.
Source link