While making any investment, an investor's major goal is to become rich as soon as possible. Some of them do achieve their investment goal with the available limited investment tools. These successful investors don't do different things, but they do things differently. Let's take mutual fund investments. A person who is in the nascent phase of one's career generally chooses a systematic investment plan (SIP), which is one of the most popular parts of mutual fund investment. According to tax and investment experts, a mutual fund investment will give at least 12 per cent return if the investment is for long-term. However, they are of the opinion that after one begins an SIP, one should think of increasing the SIP amount annually in sync with one's salary hike. It will help him or her maximise one's returns.
Speaking on the mutual fund SIP investments Kartik Jhaveri, Director — Wealth Management at Transcend Consultants said, "Mutual Fund is subject to market risk and one should have the appetite to take risk. In the long-term this market linked mutual fund sip will give at least 12 per cent return but when I say long-term, then it should be an investment for at least 15 years."
Mutual Fund Calculator
Assuming Kartik Jhaveri's views; let's assume that one starts a mutual fund SIP of Rs 6,000 for 25 years and one's return for the same period is 12 per cent. Then as per the mutual fund calculator, one's maturity amount will be Rs 1,13,85,811.
However, this is a common practice of mutual funds SIP. According to Jitendra Solanki, a SEBI registered tax and investment expert, one should increase one's SIP amount annually as one's salary grows. In that case one will be able to maximise one's money's worth.
WATCH | Zee Business Live TV streaming below:
How to become crorepati
Let's see how this mutual funds SIP step-up plan will impact one's maturity amount after 25 years if the same Rs 6,000 SIP is increased 10 per cent per annum. As per the mutual fund calculator, one's maturity after 25 years at 12 per cent returns will be Rs 2,36,92,246.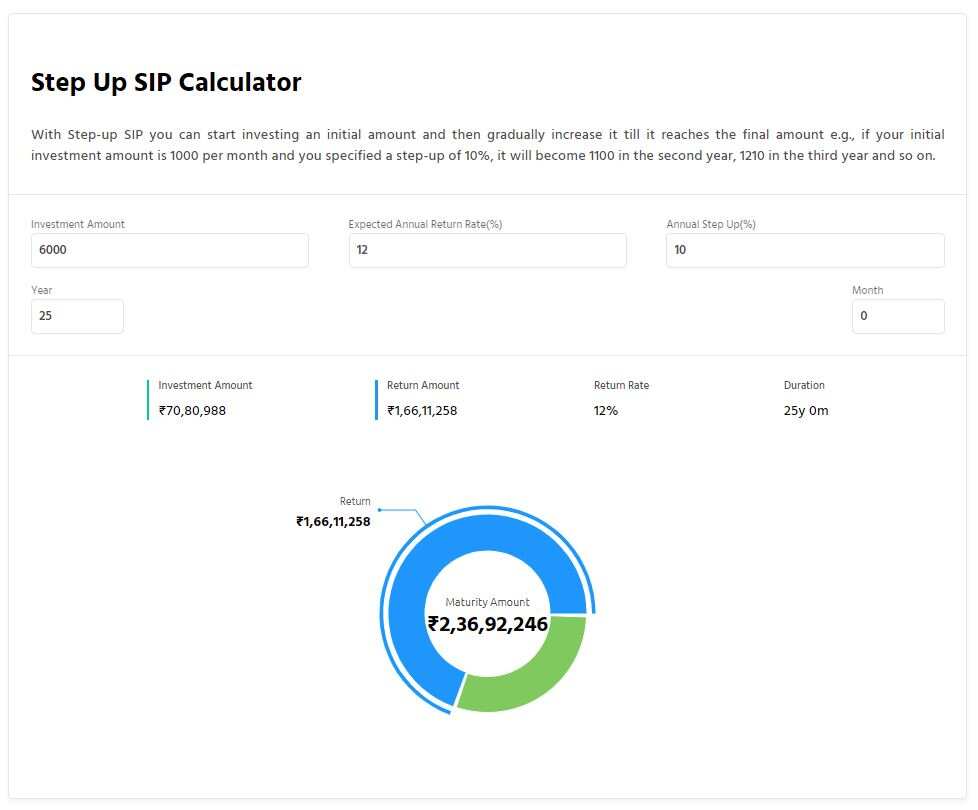 Out of these Rs Rs 2,36,92,246 maturity amount, one's net investment will be Rs 70,80,988 and rest Rs 1,66,11,258 is interest earned throughout the investment period of 25 years.
So, this 10 per cent step up in the Mutual Funds SIP will jump from Rs 1,13,85,811 to Rs 2,36,92,246, which is more than double from the normal mutual funds SIP investment.
Source link